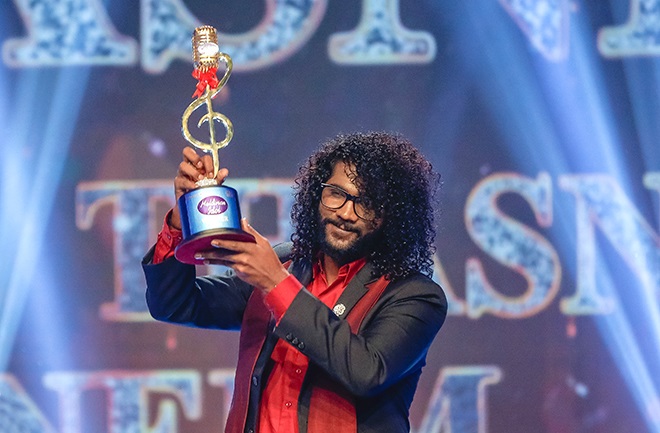 Congratulations, Mohamed Thasneem (Bob) for winning the title of Maldivian Idol season 2.
Maldivian Idol season 2 could only be described as a competitive battle of the stars which introduced many talents to the industry.
Mohamed Thasneem was announced as the winner of season 2 of Maldivian Idol at a colorful grand finale. He ecstatically accepted the trophy from Chief Guest of the finale ceremony, Minister of Health Abdulla Nazim.
Thasneem was followed closely by fan favorite, Hamoodh Ahmed as runner-up while the sensational Shamweel Mohamed was selected as second runner-up. As the title winner, Thasneem (Bob), popularly known as Bob was awarded MVR 250,000 by Public Service Media (PSM). As the winner he was also offered the opportunity to perform at the Asia-Pacific Broadcasting Union (ABU) Song Festival. The top three winners also received a total of MVR 5.8 million worth of prizes from sponsors.
Thasneem, described winning the coveted title as 'hard to believe'. He said that the rightful owners of his title were his supporters. He voiced his dream to go as far as possible in the field of music and entertainment. Thasneem's family expressed delight for his achievement, regardless of the many challenges he faced. His mother described the moment, as a great success and joy for the whole family.
The runners up Hamoodh and Shamweel also stressed on how the 'Idol experience' had been a once in a lifetime journey.
In what many see as a revolutionary move for the Maldivian music industry, Maldivian Idol was introduced in 2016 based on the popular British show Pop Idol created by Simon Fuller's 19 Entertainment and developed by Fremantle Media. This is the first franchised television show in the Maldives, judged by a panel consisting of experienced musicians of the country. Now Maldivian Idol will be back for a 3rd season, with surprises and unlimited entertainment.