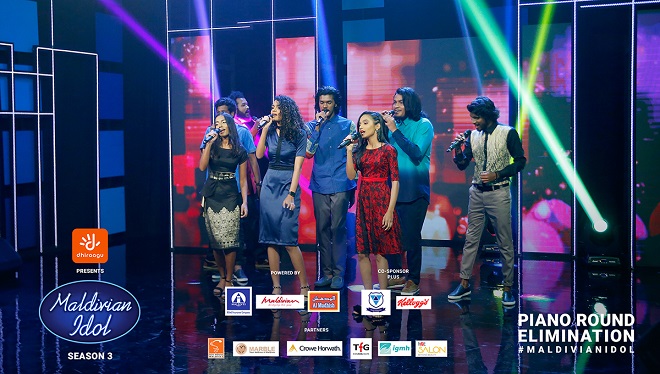 It was a night filled with beautiful performances and much suspense. The first eliminations show was held on Saturday night, with over the top performances by 8 out of 16, who came through to the piano round of Maldivian Idol season 3. 
Saturday's episode began with a group performance by contestants followed by duets by the 8 contestants. The judges all concurred that this season has brought together great talents, making it one of the most competitive piano rounds. We also witnessed a little duet performances between the talented judges, Unoosha and Zara, which set the social media on a frenzy. 
The performances were followed by the much dreaded eliminations which were based on 50 percent votes of audience and 50 percent on judges' decision. 
The show bid farewell to two contestants, Ahmed Isham and Nisfa Musthafa.
When asked about how they felt about being eliminated Ahmed Isham and Nisfa Musthafa both agreed that it was with the heavy heart they leave the show, but that it was a great journey and an opportunity for them to expand their horizons within the industry. They also noted that their fans will see more of them, noting that they will continue to pursue their dream to become better artists.  
The judges and fellow participants were all emotional, noting that they all feel like a big family, which makes it difficult to say goodbye to any fellow contestants. 
6 contestants, namely Raihaan Adam, Shaan Shareef, Mariyam Maeesha, Abdullah Munaz, Abdullah Murshid and Aishath Azal Ali Zahir, are now through to the top 12 of the season. They will be joined by 6 more contestants who will be selected from the rest of the 8 who are to perform on next weekend.  
The second episode of piano round continues next week with 8 more contestants vying to make it to the top 12 spot. Once again Friday night (9.03.2018) will see performances of participants after which polls will be open to public to vote for their fav contestants. This would be followed by Saturday (10.03.2018) night's elimination round, where once again 2 contestants will say goodbye to the show.