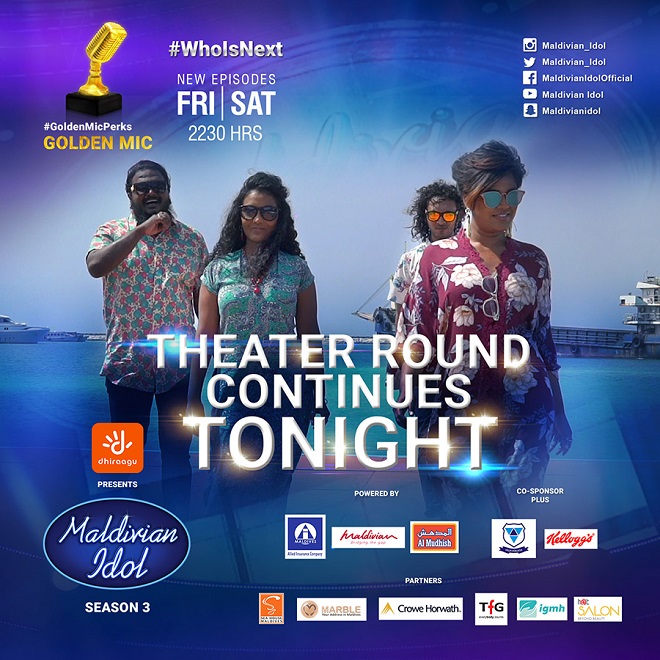 It was a night filled with surprises and suspense in Maldivian Idol season 3 theatre round's first episode. 
The episode which aired on Friday night at 10:30pm took place at Hulhumale Youth City. The aesthetic view of the youth city along with group performances were a perfect setting for the theatre round with yet another plot twist. During the third group performance of the first episode of theatre round, judges surprised viewers and contestants alike by announcing on the spot eliminations. 
33 participants went through to the theatre round, one of whom had to bid farewell to the show due to personal reasons and another was not present at the first episode of theatre round as she won the golden mic during auditions, which is also a new introduction to this season. This left 31 contestants performing in groups of 2, 3 and 4 on Friday night's episode. 
The episode saw some splendid performances, nevertheless some contestants were unable to perform to the standards expected by the judges. Due to this 3 participants were eliminated on the spot, while 8 more bid farewell at the end of the episode when judges revealed their results. 20 plus the lucky golden mic winner are to perform tonight on the second episode of theatre round at 10:30pm on TVM. The production team reveals that yet again tonight's episode will also be filled with plot twists and suspense. So stay tuned on TVM at 10:30pm for your favorite entertainment reality show, Maldivian Idol.